Jacuzzi, Spa, and Hot Tub Removal Services with Corona Junk Removal & Property Maintenance LLC.
Corona Junk Removal & Property Maintenance LLC has been providing advanced junk removal services for homeowners in Anaheim, Placentia, and Corona. We specialize in hot tubs and jacuzzi removal services that are carried out quickly and safely. Our experienced team of professionals is equipped with the know-how to safely remove your large spa or hot tub without causing any damage to your property.
We understand that having an old or outdated hot tub or jacuzzi in your yard can be unsightly and potentially even dangerous for your family. That's why we offer our professional hot tub removal services at competitive prices. We strive to provide our customers with quality workmanship so they can enjoy their updated outdoor living area free of eyesores and potential hazards.
Are you searching for a reliable junk removal company that specializes in jacuzzi removal, spa removal, or hot tub removal near you? Look no further than Corona Junk Removal & Property Maintenance LLC. Our team of experts is experienced in removing and disposing of all types of hot tubs, spas, and jacuzzis, regardless of their size or location.
Our services are available in various cities surrounding Corona, California, including Menifee, Riverside, Ontario, Anaheim, and many more. We take pride in providing professional and efficient services that meet and exceed our clients' expectations. With our advanced equipment and experienced team, we can tackle any hot tub removal project, no matter how challenging it may seem.
When it comes to hot tub removal, safety is our top priority. Our team follows strict protocols to ensure that the removal process is carried out safely and efficiently, leaving no damage or debris behind. Whether you are renovating your home or replacing your old hot tub, we offer flexible and affordable services that suit your needs and budget.
In addition to Corona and its surrounding cities, we also provide hot tub removal services in Orange County and Riverside County. We take pride in our commitment to sustainability, which is why we recycle and dispose of all waste responsibly.
At Corona Junk Removal & Property Maintenance LLC, we understand that our clients' satisfaction depends on our ability to deliver high-quality services. For this reason, we employ only the best experts in the field and use state-of-the-art equipment to ensure that each project we undertake is completed to the highest standard.
Don't let a bulky hot tub or spa take up valuable space in your home or yard. Contact Corona Junk Removal & Property Maintenance LLC today for reliable, quick, and efficient hot tub removal services, and take the first step towards achieving your dream home renovation project.
Advantages of Professional Hot Tub Removal Services with Corona Junk Removal & Property Maintenance LLC.
When you hire us to take care of your jacuzzi or spa removal, you can rest assured that you'll receive reliable service from experienced professionals. With our services, you will not have to worry about lifting a heavy spa on your own, as we come prepared with the right tools and equipment necessary for a successful job every time. Our team is trained in proper safety protocols when working with large pieces of machinery, which ensures that the entire process goes smoothly while minimizing the risk of injury or property damage.
In addition to avoiding potential injuries from lifting and carrying a bulky spa yourself, professional hot tub removal also helps prevent further damage to your property due to improper disposal methods. When it comes to dismantling an old hot tub or jacuzzi unit, it's best left to experts who know the ins and outs of these systems. This way, you can be sure all parts will be carefully removed without causing further destruction such as broken pipes or cracked circuit boards.
What We Do During The Removal Process
Once we arrive on-site for hot tub removal services, our first step is performing an assessment of the unit so we can determine the best course of action for its safe disposal. We'll inspect all components such as pumps, motors, filters, circuits boards and more before beginning deconstruction so all parts are separated correctly according to their type – this way none will be accidentally damaged when removing them from the structure itself. Once dismantled into smaller pieces, Corona Junk Removal & Property Maintenance LLC. will then take care of loading them onto our vehicles for transport off-site where they are properly disposed off at local recycling centers where applicable.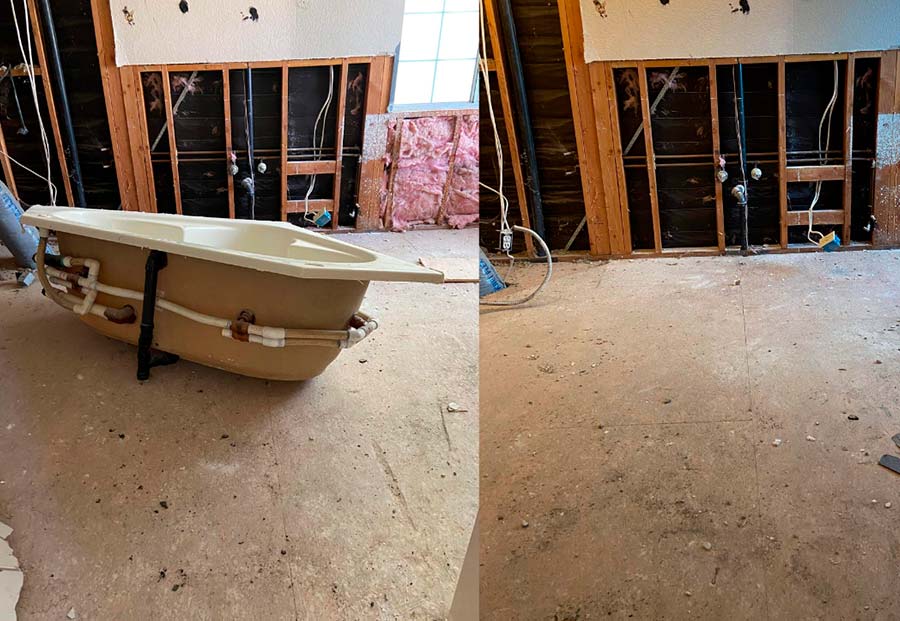 How Much Does Hot Tub Removal Cost with Corona Junk Removal & Property Maintenance LLC?
The cost for our hot tub removal service depends largely on the size and weight of the unit as well as any additional fees associated with hauling away the materials once on-site (such as fuel costs). Typically speaking however we usually charge per hour with no additional hidden fees involved – meaning you only pay what's displayed up front – no surprises! If you're curious about what exactly would go into pricing out a job like this one feel free to contact us directly so we can give you an accurate estimate tailored just for you!
At Corona Junk Removal & Property Maintenance LLC we understand how important it is that your home looks its best; especially when it comes time to sell it down the line! That's why we offer comprehensive Jacuzzi Spa & Hot Tub Removal services designed specifically for busy homeowners who need help getting rid of large bulky items without breaking their bank account! Whether it's simply updating their current landscape design or eliminating potential hazards from aging spas – our experienced team is here to help make sure each job gets done right – no matter how big or small!
Corona Junk Removal & Property Maintenance LLC
Our team is up for every job, managing projects with the skill and experience our clients have come to expect. We guarantee to treat our customers with respect, empathy, and professionalism. We treat your home like our own! Contact us today for a free consultation and estimate!